Patent 623942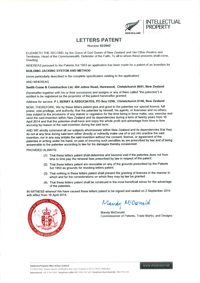 (Click to view)
Building Relocation
Smith Building Relocation was founded in 1998 when the company purchased the business Building Removals Ltd. The building relocation division has steadily grown over the years through to its current position of late-model, dedicated, in-house-designed and purpose-built plant.
We have invested heavily in specialist relocation equipment and are also proud to offer clients the back-up from its various divisions such as crane hire and civil engineering, with over 300 major plant items including over 90 cranes of various ability and contracting equipment which includes 19 excavators, 13 tele-handlers, large and small piling rigs.
When combined with our civil works knowledge, Smith Building Relocation offers industry-leading equipment and experience.
Our company offers free-of-charge site inspections with a direct and innovative approach to ensure each contract is priced fairly and allows for safe and efficient relocation of your building.
We are also proud to offer a 3m high synchronised jacking plant, which we have pioneered and purpose-built for the Christchurch earthquake recovery (Patent 623942). This plant allows for the replacement of concrete floor slabs without removing the dwelling from its section.
Our building relocation division has never had a legal dispute and enjoys the returns of continuous work of many and varied clients.